Roaring Twenties Bingo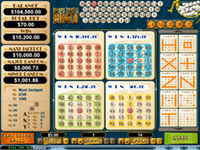 The Roaring twenties Bingo game will take you back to those glory days of fun and bingo halls, is a modern single player game, with an Art Deco look about it. Played on Real Time Gaming platform you get to multi-task with 100 cards at one time and 91 balls, there are 90 basic balls and one ball is the wild card ball, this give wonderful extra chances to improve your winning chances.
A game for everybody
This game is ideal for players who have a limited bankroll and for those high roller players who like to wager big, the betting range is from 1c up to $5, and you have the chance to play up to 100 cards at a time. The range for betting begins with 1c for a single card or you can play the maximum of all 100 cards and your bet will be $500 for a game. The game is played similar to a slots game where the paylines are displayed and you can see the payouts. When the cards get close to winning you will see them resorted on the screen allowing you a good look at your opportunities for winning.
The Bingo Extra Ball Play
When you see your bingo cards look like they have a good chance to be able to fill the higher payout pattern, you can play with the 'extra balls' button, this will double your total bet and give you more chances of winning. You will see five balls drawn, and the cards will fall. Note: the rules of the game say that the total bed is doubled but you will notice that the bet per card will not be altered.
Turbo boost
If you want to accelerate the game play, you can use the turbo feature to do that, it will speed up the ball release if you find the game slow.
Progressive jackpots
There are three progressive jackpots which means there are wonderful opportunities to get some really good winnings.
The maxi progressive jackpot will be won when you have a blackout pattern; that means that multiple cards fill all the spaces with one card that will be awarded the jackpot at the same time the rest of the cards will be paid out 10,000 the minimum bet placed for each card.
The major jackpot is won at random
The minor jackpot is also won at random.
The game is fun, exciting and interesting enough to keep players enjoying the game; why not try it today.